Posted by Simply The Base | Filed under Toys
Monopoly – the source of many a family argument, yet still one of the best loved board games in Britain.
With Christmas just around the corner why not add a twist to the traditional family board game time. Now in stock we have a range of Special Edition versions of Monopoly; including everything from a Hobbit edition to a Chelmsford version of the game!
Arsenal FC Monopoly
Chelsea FC Monopoly
Disney/Pixar Cars 2 – Monopoly
Liverpool FC Monopoly
London Underground Monopoly
Manchester City F.C. Monopoly
Manchester United Football Monopoly board game
Marvel Monopoly
Monopoly – Bath Edition
Monopoly – Nottingham Edition
Monopoly – 50th Anniversary Edition James Bond Games
Monopoly – Cambridge Edition
Monopoly – Chelmsford Board Game
Monopoly – Cork Board Game
Monopoly – Dr Who 50th Anniversary edition
Monopoly – Dundee Board Game
Monopoly – Family Guy
Monopoly – Isle of Wight
Monopoly – Millionaire
Monopoly – Only Fools & Horses
Monopoly – Oxford
Monopoly – Revolution
Monopoly – The Hobbit
Monopoly – Weymouth and Portland Board Game
World of Warcraft Monopoly Board Game
Posted by Simply The Base | Filed under Offers, Toys
Buy any selected Lego City construction set and receive a free Lego City Mini Movie Collection Limited Edition DVD.
See the creative world of LEGO come to life in the all-new mini movie collection DVD. Four mini movies each 5 minutes long: Hot Chase, Rocket Cash, Cash Splash and Crocks Everywhere.
Check out our fantastic range of Lego City sets here
Posted by Simply The Base | Filed under Toys
With so many Toys battling for attention leading up to Christmas here are our pick of the bunch.
LEGO Star Wars 7958: Advent Calendar
With 24 unique gifts, including iconic minifigures, vehicles and accessories from the Star Wars universe, the all-new LEGO Star Wars Advent Calendar is the perfect way to set the festive holidays into hyperspeed!
LEGO City 7553: Advent Calendar
Just make sure the robbers don't steal all the gifts and get away! With 24 individual gifts, including police and robber minifigures, they are the perfect addition to your existing LEGO sets and a great start to the festive holidays.

Buy Sesame Street - Count 'n Crunch Cookie Monster
Learn to count with Sesame Street's Count 'n' Crunch Cookie Monster. Little ones will be mesmerised by this moving, talking bundle of fun from the TV show Sesame Street.
Sesame Street
Buy Meccano - The Adventures of Tintin: Secret of the Unicorn - The Unicorn
Discover the secrets of The Unicorn by putting together this Meccano Tintin set. After finding a clue hidden in a model of The Unicorn, Tintin and Captain Haddock have to travel across the world to find the secret of Sir Francis Haddoque's legendary ship.
Meccano
Buy Harry Potter - The Monster Book of Monsters
Replica Monster Book of Monsters from the Harry Potter movies. Use the book as a keep safe box to store your most precious possessions.
Book Of Monsters
Buy Bop It XT
Bop-It XT tests mental skills by getting players to follow its directions at a faster and faster pace. It's suitable for ages eight and up and is great fun whether you loved the original or you're new to the game.
Bop-It XT
For more Chirstmas toy gift ideas see our latest Newsletter
Posted by Simply The Base | Filed under Toys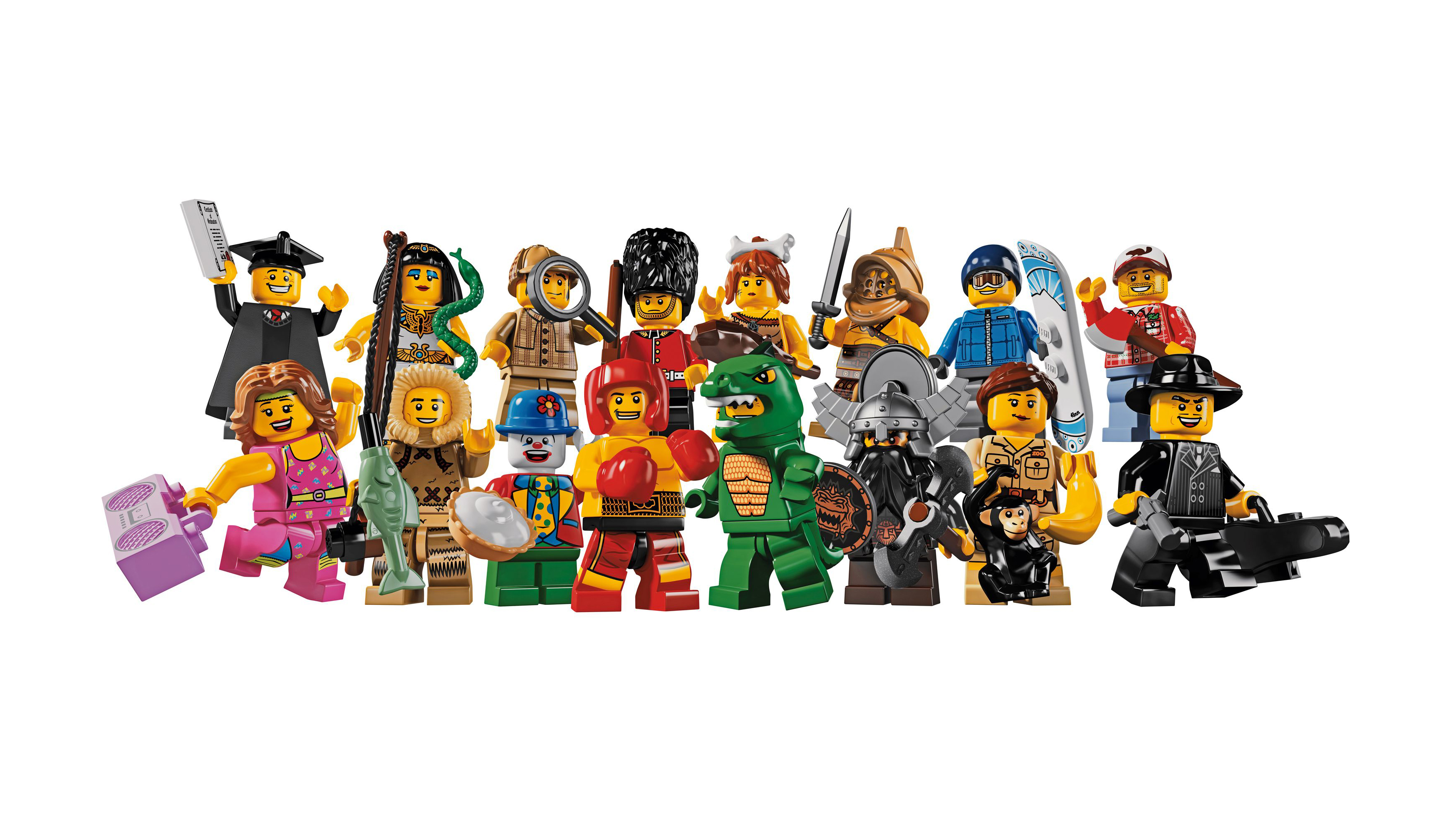 The fifth series of Collectable Minifigures are now in stock and available to purchase, featuring 16 brand new characters!
Each figure is available to buy individually just click the link. To view the full range click here – includes the complete set and sealed sets for a touch of mystery.
Posted by Simply The Base | Filed under Cinema, Competition, Toys
So today is the day every Harry Potter fan has been wating for (or dreading!). Harry Potter And The Deathly Hallows: Part 2 has finally made its cinematic debut marking the end of one of the biggest film franchises in history. To celebrate the films release we have a special #FreebieFriday Give Away for our Facebook & Twitter followers!
We have 4 sets of LEGO Harry Potter 4865: The Forbidden Forest to Give Away!
To enter simply Tweet this message: Win Lego Harry Potter! http://blog.base.com/2011/07/15/harry-potter-competition/ RT & Follow @base_com to enter #FreebieFriday
Good luck and the Winners will be drawn on Monday 18th July.
Check out our complete range of Harry Potter Toys here!
Posted by Simply The Base | Filed under Competition, Toys
To celebrate the release of LEGO Ninjago – The Videogame on Nintendo DS today, we have 22 Jay (Blue Ninja) – Lego Ninjago Minifigures to give away!
The Lucky Winners are…..
@sweetzilla
@iMediums
@Floyd_Kraemer
@CorkyP1g
@V1cki_Lou
@bev_metallica
@Rong61
@Dreaded_Moose
@wulanjog
@Lanky_Feck
@abaaarnes
@zimpirate
@phyllgerry
@shazpaz
@maxtweenie
@DanielCake
@emilyh13
@melspur
@Kath_w_r
@SlaptArze
@TheAmorousPrawn
@Pinkbling11
Congratulations to all listed above! If you are one of the lucky winners could you please send me a Direct Message on Twitter telling me your Name & Address so we can ship you your prize.
Posted by Admin | Filed under Competition, Toys
We're giving away 4 Angry Birds Plush Toys on Twitter to celebrate the launch of the latest Angry Birds Game, Angry Birds Rio, in the iPhone App Store.
We have
1 x 8″ Red Bird Plush Toy
1 x 8″ Yellow Bird Plush Toy
1 x 5″ Red Bird Plush Toy with sound
1 x 5″ Black Bird Plush Toy with soound
The Angry Birds Rio game is based on the story from the upcoming Twentieth Century Fox animated movie, Rio, in which Blu, a pet parrot that never learned to fly and lives in domesticated bliss in America. Blu's life changes when his owner discovers a possible mate for him and takes him to Rio De Janeiro to meet her. Nothing is ever simple and straightforward in animated movie land, and Blu and his potential mate, Jewel, are kidnapped.
The Angry Birds Rio game follows this story and incorporates Angry Birds well loved demolition challenges, with 45 dedicated levels and unique twists based on the upcoming movie.
To enter our prize you'll need to follow us on Twitter and retweet This Message to enter the competition
Posted by Admin | Filed under Toys
Lego and Star Wars have always had an excellent relationship. Which child in the 80's didn't list a Lego Millenium Falcon as the ultimate Christmas present ever? Well, probably 95% of all the girls, but, hopefully, you know what I mean.
Well, to celebrate this relationship, Lego have released a limited edition poster showing all of the Star Wars Lego Mini Figures and it looks awesome. On the reverse side there is a limited edition print run number. Only 50,000 have been printed.
There are a total of 90 Lego minifigures shown on the poster and they are separated into 45 members of the Rebel Alliance and 45 members of the Galactic Empire.
The poster is headed up with Anakin Skywalker as a member of the Rebel Alliance and then as Darth Vadar, Number 2 in the Galactic Empire.
Here we can see a close up of the picture for the Lego Star Wars Darth Vadar Minifigure along with the Lego Product Code for the Lego set that the minifigure is available in.
Some characters, including Luke Skywalker and Anakin Skywalker have several entries showing them at different stages of the Star Wars story.
The full list of Lego minifigures shown in the Lego Star Wars Limited Edition Collectors Poster 2011 is:
If you want to get your hands on some Lego Minifigures, check out the current range of Lego Minifigures at base.com, or, follow this link if you want to see all the Lego on offer from base.com